Doing business with the
WUG
PROFILE - What's Up Goa! (The WUG)

The insider's guide to hip hotels, restaurants and what's happening in Goa!
---
WhatsUpGoa.com fills the exiting need gap for an online resource that provides a selective guide to Goa, one that specifically addresses the tastes and needs of the savvy global traveler, that is regularly updated, is cutting-edge in design and conversational in content, and that embodies the definitive culture of modern-day Goa.
WHAT is The WUG:
---
· Represents a highly selective member-base of establishments & service providers (by invitation only)
· Niche Target Audience- the savvy global traveler
· Extensive global database of website users and mailing list subscribers
· Aggressive Search Engine Optimization campaign of website
· Appealing aesthetics & visual design of website
· Dynamic, interactive and superior content on website
· Regular updates to website of menus, flyers, interviews, news and through periodic newsletters
· Direct mailers & newsletters for promotions and inside scoops to mailing list subscribers
· Unique, exciting and targeted promotional campaigns
· Buzz and Social Media Marketing
WUG BUSINESS PARTNERS:
---
Establishments featured in the WUG are by invitation only and reflect a niche ensemble of service providers that are unique and superior. The WUG & Co. is responsible for identifying businesses appropriate for the site, and for managing all relevant content, features, updates and reviews.
Criteria for membership include:
· Represent the best of the breed & unique establishments in Goa
· Distinctive and excellent in aesthetics, experience and offering
· Appealing and relevant to the global connoisseur
CATEGORIES OF BUSINESSES / SERVICE PROVIDERS:
---
The WUG site will feature all pertinent categories of service providers:

GEOGRAPHY OF BUSINESSES/SERVICE PROVIDERS:
---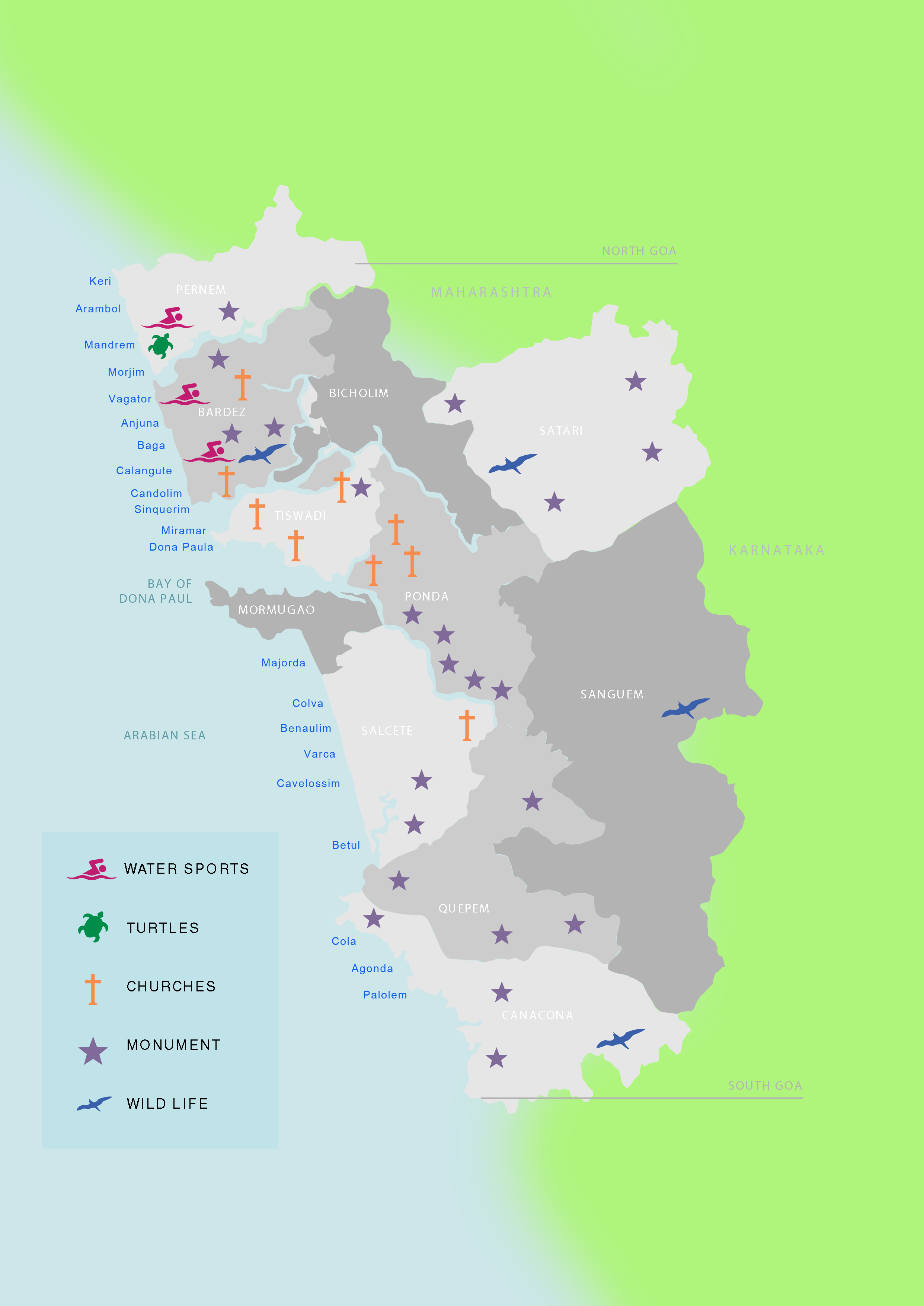 North Goa
- Up the River Arambol to Morjim
- Down the River Siolim - Vagator to Anjuna
- Calangute Area Baga, Calangute & Candolim

Goa Central
- Panaji to Madgaon

South Goa
- Panjim – Agonda/ Palolem
PARTNERSHIP TIERS:
---
Validity of a contract with the WhatsUpGoa.com will be for one year. Businesses who wish to be a partner may choose from the following tiers, categorized by level of engagement and fee:
· CLUB
o Free 1-page business website (micro-site) on WhatsUpGoa.com
o Micro-site online for 1 year (from October to September the following year)
o One time upload of pictures, brochures, links, etc
o Leverage all SEO, Social Media and offline promotion campaigns by The WUG
· SILVER
o All CLUB privileges
o Feature on the Category (Hotels, Restaurants, etc) homepage for 30 days
· GOLD
o All CLUB privileges
o Feature on the WUG homepage for 30 days
· PLATINIUM
o All CLUB privileges
o Weekly updates & uploads to micro-site
For more details regarding prices etc, please contact us directly.
ADVERTISING on WhatsUpGoa.com:
---
Businesses may also choose to buy advertisement space on WhatsUpGoa.com.
Prices vary based on webpage, size of banners. etc.
The WUG & CO. can, for an additional charge, assist you in creating in your advertising banners.
For more details regarding advertising on WhatsUpGoa.com, please contact us directly.
WHY partner with The WUG:
---
All businesses featured on WhatsUpGoa.com, inherently enjoy a bouquet of special privileges, including:
· Complimentary micro-website of the business, a one page website displaying all relevant information, created by expert graphic designer- COMPLETELY FREE!
· High profile online identity and visibility through micro-site on The WUG
· Detailed and superior content online with capability to upload pictures, menus & flyers, links to other articles online, etc, managed entirely by The WUG team (with option to review & edit)
· Status of being a affiliated with the elite group of businesses that comprise the WUG member-base
· Access to an extensive global audience and database
· Leverage high ranking on Search Engines through the aggressive WUG SEO campaign
· Benefit from all WUG social media and other marketing campaigns
· Opportunity to connect directly with the target market through special WUG events